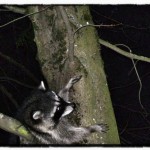 I'm going to let you in on a little secret: One of the surest ways to know you're living next to a Vampire is by the absence of all animal life. Take a moment to pay close attention and if you find no sign of living creatures within a quarter mile radius, be worried. And then move.
Mice, rats, raccoons, pigeons, crows, dogs, cats — tigers and lions and bears, depending upon where you live — they all naturally shy away from us. Their instincts serve them well. A few dozen generations of hard-gained experience is usually enough to hard wire the best survival mechanism: avoidance.
Of course, as Pavlov showed us, any dumb beast can be conditioned to tolerate almost anything, even that which goes against instinctive fear. With cunning and patience, even fear can be minimized or better yet, subverted — transmuted to, oh, I don't know, an erotic curiosity that supersedes good sense. Yes, yes, you understand me; Vampires have trained humans throughout the years to disregard your natural impulse to flee in our presence. In fact, we've turned that fear on its ear and now you find us almost irresistibly attractive and alluring, magnetic. No matter the sexual predilection, you humans just can't get close enough to us. Well, at least until we get our teeth into you. Then the floodgates of fear are flung wide open.
Unlike our favorite prey (that would be you, dear reader), animals are less easy to train against instinct and tend to avoid us which makes possessing a pet a bit challenging. Certainly some of the larger canines and felines, natural hunters like us, appreciate our skills and the ability to deliver fresh meat on a regular basis. But in an increasingly urban world with so many regulations (libertarians, a tip of the coffin lid to you), roaming the wild places with a lion is increasingly difficult. And the litter box, after meal or two on human remains? Utterly horrid.
It's depressing, really, this inability to own pets. Re-inhabiting my body at sundown only to be greeted by some happy loyal little dog would be nice. I did have a darling little cocker mix for a time but he could never get over his fear of me. Poor dear sat in the corner shivering and losing his hair and urinating uncontrollably. Of course, I had to get rid of him eventually.
No, not like that! I'm not a monster.
Rather, I returned him to the Humane Society during one of their all night adopt-a-thons. I did at least find something there to temporarily soothe my disappointment — a lovely little vet tech who was completely enchanted by my knowledge of long-extinct species. Of course, I just had to take her home with me. They really should rename that place the Human Society.
Her survival instincts were not very strong, thankfully. They are now, it seems, based on her pitiful moans and the fact that she's sitting in the corner shivering and losing hair, urinating uncontrollably. She's barely fighting the chain holding her to the wall.
A good owner would take her for walkies, but it should be clear now that I'm not well-suited for that role. I suppose I may have to release her into the wild. And by "release," I mean drain and by "wild," I mean my hungry mouth. For Pavlov's sake, maybe I'll a ring a little bell first. Or better yet, teach her a few new tricks. Like how to beg. And how to play dead.