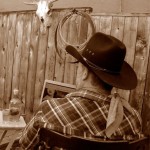 Dear Cowboy, how do you ask a really cute cowboy out?
Signed, nervous and waiting
Dear NaW, thanks for writing. The hardest part about asking someone out is the possibility (or in my case, the near certainty) of rejection. Nobody likes rejection and, just like how we get queasy when we smell food that's spoiled or jump when we see a spider, even if it's just an old daddy longlegs, our brains try to limit the possibility of us blundering into something that hurts.
I'm reminded of the first time I tried steer wrestling in the local jackpot rodeo. My brain was telling me that throwing myself off a galloping horse to grab the horns of a pissed off steer that outweighed me by a good 400 pounds just to grabble him to a full stop was a stupid idea. But once I got past the initial fear, I realized it was a lot of fun. And by fun, I mean having a tooth knocked out and tearing my triceps. Read more of the Cowboy's answer>>