Art attack! #50daysofFiverr
Day 50!  Love this sketch of Clark and Kathleen driving off into the blue sky somewhere in the vast American west. Woof! Rex running to keep up. It's a good life…this 50th day artist is "dougmcclain" working from Canada.  See all the 50 gigs here.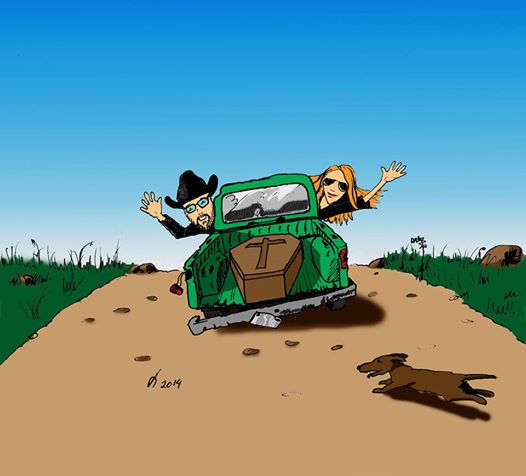 The backstory: We stumbled across Fiverr a few months ago and were blown away by the orgy of creativity pooled there under the rubric of $5 bucks gets you a ticket in, a taste and a tease of talent. Obsessed at first sight, we traded our good sense and used up our (sadly, limited) marketing budget on 50 talented (and a few eccentric) artists, asking them to focus their creative juices on The Cowboy and the Vampire. Total = $250. Why?
Because it's fun. ART ATTACK! Rap, video, puppetry, poetry, performance art, faux-newscasts and cartoons (lots of cartoons) from artists working in LA, the Philippines, London, Mumbai and more.  We were fucking blown away. You will be too. The show commenced on October 1. One gig a day.  See all the gigs posted here, one new one each day.  And follow at #50daysofFiverr.
Oh, and yea, we're running a contest. We're tracking retweets, facebook shares and Instagram likes. For each one, you'll be entered into a drawing at day 50 for a $50 gift certificate at the vendor of your choice! So for 50 days, be inspired and amazed, and share the love. Share the art love!