Writing the range: Top 10 cowboys in literature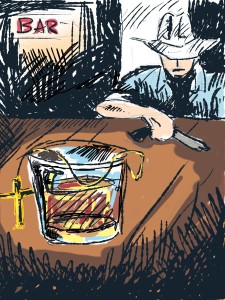 Cowboys are enjoying a surge of popularity, particularly in the land of romance. Right now, an explosion of popular books on Amazon feature six-pack ab-adorned cowboys with steely blue (or green) eyes, staring out from the covers seductively and with promise. They all look vaguely related, too.
While these romances are flying off the e-shelves, it's made us think a lot about the cowboy icon. Why is this myth so persistent? Especially when, by and large, moody, gym-going cowboys without shirts never really existed? And we should know. One of us is a true-blue cowboy, albeit lately lapsed due to love, and he never looked – or acted – anything like these romantic heroes. The other one of us is a born and bred city girl (and the cause of the cowboy lapse), a doe-eyed slightly-lost-in-the frontier just shy of pretty type usually cast as the romantic heroine in the ab-adorned books.
Ever since we met, we've been debating these questions: What is a real cowboy and are there any characters in books that capture that essence? The answers don't come from romances, although they are fun to read. The first thing we agreed to agree on – in order to answer the two questions – was cowboy history.
Cowboys, at least the variety idealized in American culture, occupied a narrow window of history that mostly mirrored the rise and fall of the big cattle ranches. The golden age of the cowboy started sometime after the Civil War, when the useless slaughter drove veterans west to try and escape their PTSD demons, and ended sometime before the dustbowl, when fencing and farming and over-tilling desiccated the once open range and sent it airborne.
That's 70 years at best – a short amount of time to create such an enduring icon. Sure, the roots of the cowboy myth trace back to Mexico and Spain — giving us the buckaroo (vaquero) and the lariat — and tracked forward to ranchers in the modern west now rattling around in their American-made three quarter ton pickup trucks chasing rodeos and dodging tornadoes. But the archetype, the romanticized cowboy, the man of solitude, the knight of the open range forever looking for a wrong to right and sunset to ride into, came and went pretty fast in history.
And yet, the myth of the cowboy crystallized into something far larger and grander than the brief time cowboys rode across the stage of history. A flawed but good-hearted hero, a stoic man with integrity and ingenuity, a heart buried deep beneath a layer of muscle and grit that hides quietly tragic backstory.
We finally agreed that it's the flawed part that makes for the most interesting literary characters, and reflects the shred of reality inside the myth, especially in the contemporary west where the means to be a cowboy has now shrunk down from the big-ranch era to one of dude-ranches for tourists, or alternative careers like lawman, alpaca farmer or fracker. Read the rest of this entry »