Praise for The Cowboy and Vampire Thriller Series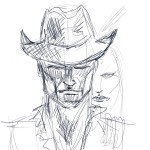 Introducing racial issues isn't the only adjustment the authors have made to the vampire mythos, but it's more than just the details that set this series apart. Rather, it's the way the authors utilize those details to create meaningful conflicts and world-altering choices for the characters. While a number of existentialist underpinnings give the series some depth, the book is first and foremost a thriller, upping the ante in every chapter as bullets fly and relationships strain under the weight of old loyalties and new revelations. In a way, it's a shame more time isn't spent exploring the existence of this meta world where consciousnesses wait out the daylight hours and immortality has all sorts of ramifications for human spirituality. But with strong writing, funny characters (no irony is lost on one vampiress who takes to sporting a "Future Farmers of America" jacket) and plenty of action, it's hard to fault the authors for keeping the focus on a story this riveting.
Relationships are tumultuous when they may only last a few decades, but when they last eternity, it can get more difficult. "Blood and Whiskey" is a novel of adventure, horror, and cowboys as a follow up to previous novel 'The Cowboy and the Vampire', as couple Tucker and Lizzie retreat to a tiny town to of LonePine, hoping to settle down, but the reality of the Vampires on their trail may make that an impossibility. A riveting read that explores many concepts on top of the intrigue of vampires in the lawless lands of the west, "Blood and Whiskey" is a choice and very much recommended read, not to be missed. Micah Andrew, Reviewer
Hooked from the first page! As a person who hasn't read the first book in this series I was really surprised at how much I enjoyed this one. I mean I knew as soon as I read the summary I would like it but I didn't expect the book to have me laughing out loud so often and I mean real laughter not the bemused chuckle you have when you see something cute. Turning the Pages
WOW! I have to say right off that while I really enjoyed the first book in this series, The Cowboy and The Vampire, and Blood and Whiskey blew me away!  Where the first book covers a lot of the history of the vampires, the lore and all that, this one just jumps right in to the action and never stops. Dive Under the Cover
Campy and cool, these authors know how to rock the vampire world and turn the Wild West, wild again as they conquer everything you thought you knew about vampires and their associates! Clark Hays and Kathleen McFall are original and entertaining authors.  Brilliant!  A Bookish Libraria
A page turner! A new sub-genre of Western Paranormal Romance with their cowboys and vampires! A perfect blend of vampire politics, good vs. evil and southern accents deliver a unique story that will satisfy any vampire fan. I couldn't get enough of this supernatural world and am looking forward to seeing what the future holds for the colorful characters of LonePine! Romancing the Dark Side 
An awesome mix of funny, evil and sexy, with loads of interesting vampire politics, wacky characters … witty one liners and enough action to prevent you from putting the book down! Hays and McFall did it again.  For The Love of Reading blog
The authors mix humor, the Wild West, vampires, metaphysics, religion, and geology into a story that will keep the most finicky vampire fan wanting more.  Bertena Varney, Examiner.com
If you're looking for a combination of sex, blood and Western romance, pour yourself a shot of the good stuff and settle in for a wickedly good read. Renee Struthers, Eastern Oregonian Newspaper
Favorite quote: "Vampire-sicles," Tucker said. "There's a flavor that ain't gonna catch on at the Tastee Freeze next summer."  Blood and Whiskey definitely kept me laughing throughout most of the book. The humor was both light and dark, but always tasteful. Overall, I absolutely loved it! I can't wait for more from these wonderful writers.
Reading Lark After Dark
No sparkly vampires here. Personally speaking, if this is just the first offering in a series, I can't wait to read the second. If you enjoy gutsy, hunky cowboys and take charge, no nonsense New Yorkers, I would definitely recommend picking this up and giving it a try. Once started, I found it hard to put it down.  Cocktails and Books
Superb! I absolutely love the writing of Clark and Kathleen, they keep things interesting. There's enough sex to make things spicy, but it isn't a romance. I'd compare these books to Anne Rice's books. I can't wait to see what happens next!  A Chick Who Reads Blog (review of Blood and Whiskey)
This was such an awesome story. I enjoyed every minute of reading it. Vampires and cowboys – it doesn't get any better than that! Loved it! Granted, I started reading the second book first, but in all honesty, Blood And Whiskey can stand all on its own. It's THAT good. Will definitely catch up on the first books soon, though, as I'd like to know more about Lizzie's story and the Undead apocalypse. A great read and definitely a worthy recommend!  Simplistik Halloz Books
I friggin LOVE this book! Fangs, Felines, Fins & Fun Fiction
Kathleen with her scientific and journalistic background and Clark being the poetry writing cowboy brought their two worlds together and ended up with this incredible tale.  The Cabin Goddess
Deliciously dark, witty. Booklist
This is definitely a must read for fans of vampire fiction. Its one of the best in the genre that I have read this year.  A Chick Who Reads (Review of The Cowboy and Vampire)
Great entertainment for anyone! Melissa McPhail, author of Cephrael's Hand
The vampire history is ingeniously crafted and well interwoven with existing legend, leaving you wondering whether vampires might actually exist. Written with wit and humor, this is sure to entertain. A must-read for vampire-lore fans and anyone who enjoys a charismatic story well-told.
Sex and the City meets Zane Gray meets Anne Rice, Author Cari Vaughn
Lizzie is a modern woman and savvy reporter who could be living the life of Carrie Bradshaw in Sex and the City with one exception–she is the heir to the royal vampire line. Her hero is not a Wall Street Warrior or Corporate King known simply as Mr. Big. Nope, Lizzie's Mr. Big is a swaggering cowboy from Wyoming named Tucker. His laid back attitude mixes with Lizzie's melodrama in perfect harmony.
Hays and McFall have perfect pitch in portraying the Western Genre in addition to the newly popular genre of Paranormal Romance. The characters are perhaps as mix matched as the authors themselves, but manage to blend and compliment one another perfectly. This unique combination is not one I would have ever thought to put together, but I couldn't help but fall in love with the characters in this book nonetheless.
I thoroughly enjoyed the unique twist on the mythology of the bible and biblical themes. The character of Lazarus is a nod to the bible's first undead or reborn. Julius is as power hungry as Julius Caesar himself and Elita is nothing if not the perfect Elitist. Dad, Lenny and Rex ground this crazy, but carefully crafted tale of romance and mystery. The Cowboy and the Vampire is a wonderfully sexy, dark and delicious read that you will want to sink your teeth into. I know I couldn't get enough!
I am a Fan! I enjoyed The Cowboy and the Vampire; the quirky characters, the new mythology of vampires, and the focus upon the uncertainty between evil and good. Especially appealing to me were the personalities brought out through behavior of Tucker's dog, Rex, and horse, Snort. No wonder Tucker's dad turned to the vet for help. With family support like that, how can a Cowboy in love go wrong? Joanna at Luxury Reading
…sexy, dark, witty, and nothing less. Erin Cole, author of Grave Echoes
Embark on Tucker and Lizzie's journey into the dark world of vampires, secret ancient heritage, and their fight to save humanity, with the help of a cowboy and his posse, which includes his peculiar father, weapon/conspiracy-savvy friend, and his faithful, canine companion, Rex. Read the full review at Erin Cole Writes.
The Cowboy and the Vampire gets new blood. Jeff Baker, The Oregonian
Apparently vampire novels, like vampires, are immortal. Eleven years ago, Clark Hays and Kathleen McFall wrote a novel called "The Cowboy and the Vampire." It combined their interests — Hays grew up on a ranch, McFall was curious about religion and history — and was an experiment to see whether they could live and work together.
The experiment was a success. Hays and McFall got married and now live in Portland. "The Cowboy and the Vampire" sold about 10,000 copies, not bad for a first novel by two unknowns…read the entire article!
Rawhide romance with bloody fangs. Diana Troldahl, Freshfiction.com 
While mashing up all the stereotypical plot elements of Paranormal Vampire and Contemporary Western Romance, THE COWBOY AND THE VAMPIRE delivers unremitting fun, and a damn good read….read the full review here.
Writing duo Clark Hays and Kathleen McFall has succeeded in writing a unique story among all the vampire books that are out there today. Bertena Varney, Examiner.com 
Best of the Old West meets the Big City. (Austin, Texas, from Amazon)
I picked this book up … Let me tell you – I would have paid five times as much !!! The title really caught my eye, and the brief backpage description sold me. I fell in love with our cowboy Tucker, his horse Snort, his dog Rex, and even crusty old Dad.
Lizzie ? She ROCKED !!!!
Once I began reading, I could not put the book down. I literally read all night, and enjoyed every page and every minute. The style in which the book is written, alternating chapters written in first person by Tucker and Lizzie, is wonderful. Their unique and colorful personalities are reflected in their descriptive language. The characters are "killer" and the humor is divine.
I equally enjoyed the secondary characters, especially Tucker's childhood buddy Lenny the militia man and expert weapon creator. The plot is great and the story flow is perfect. Not once was I tempted to put this book down or skim a single page. The authors keep the reader in perpetual suspense – never knowing what to expect next.
PLEASE, oh please, let there be a sequel. If not, at least more books in the same "vein". Pun fully intended.
SF Site Featured Review – Lisa DuMond
Go ahead. You're trying not to laugh at the title. Let it out! It's funny and so is the book. Get a few pages into The Cowboy And The Vampire and you'll be laughing with them, not at them. This book is the story John Carpenter's Vampires tried to be and failed so miserably. Here are your contemporary vampires and vampire hunters, fighting it out in the wild and woolly West.
Hays and McFall have taken a grave situation and made it more than the standard vampire-worship tale. There is grief, loss, and pain on a human and inhuman scale, but there is so much more. The humor in The Cowboy And The Vampire is far from the slapstick of previous creations; the wit, sly and adult.
And, perhaps best of all, the characters are complex and unpredictable. Each creature is an individual, not a type, not a tin soldier to be moved around without thought.
A strange book that I really enjoyed (Perth, Australia, from Amazon)
Well, the title got it right – this is an "unusual romance." I can't say I've ever read another vampire book like it. When reporter Lizzie meets "the last cowboy", Tucker, they don't know what they are getting into. Not long after the fatal meeting Lizzie gets turned into a vampire against her will.
Despite this horrible turn of events, Tucker, being a cowboy, rides to her rescue – from therein it just gets stranger and stranger. Despite this, it is a funny and compelling read. This is a book I'm inclined to hold onto – it's worth a second read I think.
The Romance Reader – Susan Scribner
And now for something completely different-The Cowboy and the Vampire, the most original, humorous and romantic novel I've read in 1999.
Clark Hays was a genuine cowboy and Kathleen McFall grew up on the East Coast. Together, they have crafted a piece of magic. Their version of vampire history and culture is intriguing and creative, as is the relationship vampires share with "Adamites." The vampires, from Julius' seductive consort Elita to his arch enemy Lazarus (yes, the original Lazarus) are complex characters with fascinating quirks.
It's Tucker and his fellow cowboys who make the book. Tucker is my kind of hero. Despite his no-nonsense approach to life, he takes each new shocking revelation in stride, never wavering in his devotion to Lizzie. The contrast between the garish world of the Undead and the simple life of the cowboy is mined for every bit of irony and sly humor. The Cowboy and the Vampire never takes itself too seriously, but it still manages to be extremely romantic and sweet, despite several graphically violent scenes. I read slower and slower as I neared its conclusion because I was reluctant to see it end.
Read the full review here.