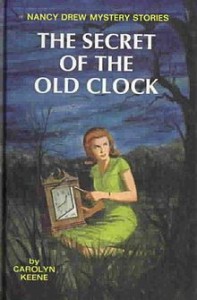 We sat for an interview with the Writer's Life recently. Good questions, surprisingly fun.
1) First of all, please tell us a special something about what makes you "tick."  When you aren't writing, what are you doing?
Kathleen: Vodka martinis, Russian literature and a formidable mix of crippling insecurity and soaring narcissism make me tick. And Clark.
Clark: Whiskey, graphic novels and an enlarged ego, partially offset by a reclusive nature, make me tick. And Kathleen.
As for the second part of your question, there isn't much time when we aren't writing, talking about writing or doing some sort of marketing — which usually involves some kind of writing. In the rare downtimes, we are usually reading, taking walks in Forest Park (it's one of the largest urban forests in the country and just blocks from our home in Portland, Ore.) or slipping off on a getaway to the lovely Oregon coast, where we tend to write, or talk about writing.
2) You chose a specific genre, a place and time to write about, what made you choose it?
We came up with the idea as a means to bring together concepts we love into one narrative framework. Clark is a big fan of the modern west and Kathleen is interested in the intersection of religion and neurology. When we crashed those two things together, undead cowboys clawed their way to the top.
We saw a lot of potential in the tension that naturally existed between the two iconic characters and fun, engaging way to explore some big topics like love, sacrifice, good and evil, small towns versus big city life and even the twisted logic behind food choices. Once we opened the door, we found endless paths to explore and so many new, fun ways to play off the tension. In retrospect, we couldn't have chosen better; chalk it up to beginner's luck.
There's a back story as well. We came up with The Cowboy and the Vampire as we were tentatively trying to repair our relationship after a bad break up. We wanted a "re-release" of Hays and McFall, and thought the only way to do it successfully was to start writing together. It worked.
3) Please share with your readers where you like to write.  Do you have a particular space or desk?  What can you see from your desk?  Do you have props you use to write from?  What about special "charms?
We would both like to write in a lovely house overlooking the ocean, possibly sipping champagne and lounging on a big bed with satin sheets. Where we actually write is on the couch (Clark) and in an easy chair (Kathleen) in the living room of our townhouse in Portland. The view is of a kitchen full of dishes to one side and a cracked, mustard-colored wall of an apartment complex to the other. And each other.
Neither of us use charms, props, lucky pants, special dances or rituals before we write. We both work in communications — Kathleen for a research university and Clark for a national financial services company — so we are both pretty good at deadline writing. We spend our days cranking out articles for newsletters and magazines, speeches, research papers and the like, and always on impossible deadlines. We bring the same discipline to our creative writing.
Our special ritual is to come home from work, plunk down in our chairs — often with a cocktail and write until we lose the battle with exhaustion. It's usually a pretty short battle, but luckily we can write fast.
4) In your opinion, what makes a book a great one?
Clark: Characters that you can't shake, that are so real you start to see the world through their eyes and think about things as if you shared a brain. It's tough to pull that off for me, though. Not only do the characters have to be deeply researched and utterly believable in action and motive, even the slightest ill-written line pops the bubble of believability for me. My brain can't handle the effort required to sustain continued belief in characters if they do something the wrong way or the conversation is awkward and makes me think "what was the writer trying to do there?" It's too disappointing. That's why I tend to read mostly nonfiction. And what makes a good nonfiction book is an interesting topic, exhaustive research and a great writer.
Kathleen:  A great story where I learn something about the world I did not know before I started the book — about a person, about humanity, about a country or culture, or even about myself.
5) Which author(s) most influenced your love of books from childhood?
Clark: I grew up in Montana reading Louis L'Amour. I'd say the first book that really moved me was Rilke's Duino Elegies, translated by Stephen Mitchell. I know many people go through a Rilke phase, and for good reason. After that, Jack Kerouac and Charles Bukowski; two more "phase-y" writers. Now I tend to enjoy the classics because I like rich, extended reading experiences — authors that would likely not make it in today's internet world of snarkiness and bullet points: Victor Hugo and Wilkie Collins, for example.
Kathleen: I cut my reading teeth on Little House on the Prairie and Nancy Drew. There is not a word in any of those books I did not read at least three times. I was also a rabid comic book reader mostly Archie (I hated Veronica, and believed myself to be Betty in the flesh through and through). That early addiction was my gateway to an adolescence filled with Jane Austen, Henry James and the like. Daisy Miller was really just Betty grown up and gone to Europe. Eventually, I landed in the darker world of Russian literature where Turgenev, Dostoyevsky and Tolstoy gave me a new appreciation of love. I never really escaped from that Russian mentality.
6) Read any good books in the past 6 months?
Clark: I just finished the Psychopath Test by Jon Ronson, which was pretty good. And The Treasure of the Sierra Madre, by Traven.
Kathleen: I loved The Corpse in the Koryo by Church. I learned about North Korea in this book. I also have discovered the whole wealth of books by Craig Johnson — definitely worth picking up.
7) Please share with us the underlying message of your book. What would you like your readers to take away after having read the book?
No matter your differences, no matter the challenges you face, love is a force that can overcome everything, even time. And not just romantic love. Familial love, friendship. Even the bond between a man and his overly-sensitive cow dog. When readers finish Blood and Whiskey, first we hope that they have to collect themselves just a little, calm down and try to process all the new things they are feeling. After that, we hope they have a sense that there is more magic and mystery and madness than we realize lurking just under the surface of life.
8) Were you able to keep your original title?  What was it, if not?
For Blood and Whiskey, yes. For the re-release of The Cowboy and the Vampire, the title was changed by our publisher. For a little background, The Cowboy and The Vampire: A Very Unusual Romance, was published in 1999. The second part of the title came from a very old book we happened upon in the Library of Congress while researching vampires.
For the re-release in 2010, our publisher (Midnight Ink) came up with a sexy new cover and changed the second part of the title to A Darkly Romantic Mystery. The new cover has gotten rave reviews, but we are still processing the title change. As some reviewers have noted, it's not necessarily a romance, nor is it really a mystery.
Our new book, Blood and Whiskey (Pumpjack Press), gets it just right, capturing the opposites-attract power at the heart of the book and throwing a loop around both titles as part of The Cowboy and the Vampire Thriller Series.
9) Is there a song or music in general that might best represent your book as a theme song?
Blood and Whiskey would probably be best represented by some classic country, maybe Patsy Cline, performed by a thrash metal band. If it's ever made into a movie, we'd like to see the soundtrack performed by Heartless Bastards, Kathleen Edwards, Amy LaVere and Emmylou Harris. With a couple of songs thrown in by Pure Prairie League and Gram Parsons.
10)  If you could write your book again, what would you change?
The time between it and our second book! We lost some momentum between the two and wish we had those years back.
11) What was the worst distraction you had to fight through while writing your book?
Like most writers, I think the biggest distraction is simply the siren call of the bed. Between our regular jobs and writing, there's just never, ever enough time in the day to focus on our creative work as closely as we'd like. Multiply that by the effort needed to market a book, and with so many great titles out there the pressure is significant, and long hours of uninterrupted sleep seems intoxicating. And, sadly, it's a luxury we don't indulge in too often.
12) What did you feel or think when you held the first copy of your book in your hands?
This is borderline blasphemous for writers, but it's almost like words can't capture it. Pride, a tremendous sense of accomplishment, hope, happiness, euphoria, gratitude, relief, disbelief. So we made up a word: disproudphoritude.
13) Tell us a secret about your book we wouldn't otherwise know, please.
In Blood and Whiskey, Tucker, the main character, and Lenny, his best friend, make a horrific discovery in tiny Plush, Oregon. We don't want to give away too much, but it has to do with some particularly nasty vampires and a blood farm. While there, Tucker learns about sunstones, the state gemstone of Oregon which can only be found near Plush. He even buys a sunstone engagement ring for Lizzie.
We traveled to Plush, mined for sunstones and fell in love with the area. Sunstones must have some kind of a special power because we reworked the book just to accommodate them (the stones have an odd effect on vampires) and Plush. It was an auspicious trip because not only did we find new elements to add, we also stayed at a haunted hotel — it used to be a therapeutic sanitarium — on the edge of the sagebrush desert. Our room, besides being haunted and filled with bumps and weird sounds from the floor above all night (note, there was no floor above us), was also filled with blood-thirsty mosquitoes. All of the weird paranormal energy and vampire-like bugs created the perfect atmosphere to finalize Blood and Whiskey.