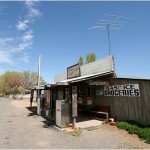 When we wrote Blood and Whiskey, we set some of the action in Plush, Oregon, population 82 (pictured at left). It is a charming little town located, literally, on the edge of nowhere. In fact, we had to stop at Nowhere for directions to Plush.
The region had a pretty huge impact on us, which is why we were so pleased to find out the largest paper in that neck of the woods, the Lake County Examiner, ran a feature article about us, our book and the fact that Plush had finally hit the big time. Read a copy of "Novels combine horror and western genres, Plush setting," written by Ryan Bonham.
The best part? Right next to our article is a piece about the local Future Farmers of America chapter. As anyone who has read Blood and Whiskey knows, Elita — our utterly remorseless and sex-starved vampires — wears an FFA jacket and little else when she feeds on some hapless cowboys.