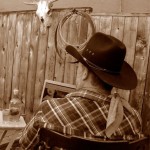 Dear Cowboy,
I'm a sailor and city girl, and I happened to find myself head over heels for a real cowboy: Hard-working, full of integrity, covered in muscles, and sweat. We rode tractor together, cooked dinner, rode the ridge-line and when he wrapped his arms around me I felt safe and inspired. We sat under the stars and worked out how to fix the irrigation.  He recently told me that he thinks our life interests are too different to ever make it work, and that he doesn't feel like his heart is going to bust out of his spleen for me. I think politics don't matter, butterflies (or lack of) do. I have two questions for you:
1. It seems that in our cross-cultural relationship there were some things lost in translation. How do I make sure in the future that I don't misinterpret nice and kind for love?
2. How do I deal with this aching heart?
Signed, "Used to be a Hon"
Read the Cowboy's answer here >>